Een bus op maat voor uw groep
BUSTYPES VOOR BUSREIZEN OP MAAT
Voor iedere bustrip bestaat er wel een aparte type bus. Buszoeker biedt u graag een handig overzicht aan, zodat u de juiste keuze kan maken over de bus die bij u past.
BUS TYPES
Er rijden op onze Vlaamse wegen verschillende bustypes rond. Elk bustype heeft zijn eigen voor- en nadelen en specifieke kenmerken. Om uw aanvraag goed in te vullen is het belangrijk dat u goed naar de faciliteiten van de bus kijkt.
In België en Nederland worden de volgende bustypes het vaakst gebruikt: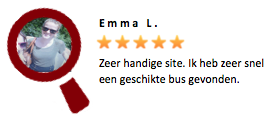 a) VIP Touringcar
Een VIP Touringcar legt de passagiers in de watten. Als u op zoekt bent naar een origineel vervoermiddel dat voor een leuke sfeer zorgt, u ideaal comfort en top voorzieningen biedt, dan worden uw wensen volledig beantwoord met de VIP Touringcar. Tafels, 4-seats, dvd/video, internetaansluiting,… het behoort allemaal tot de standaarduitrusting van VIP'er. Zitplaatsen variëren naargelang indeling, maximaal 35 zitplaatsen.
b) Touringcar
De touringcar is een vakterm die wordt gebruikt voor wat de meeste mensen als 'autobus' beschouwen. Een touringcar is echter een luxueuze autobus die meestal gebruikt wordt voor lange afstandsreizen en bij vervoer van grote groepen. Een touringcar is dus ideaal voor een verre reis naar een warme bestemming, een skivakantie of andere wintersportreis.
c) Personenbus
De personenbus is het kleiner broertje van de touringcar. Het voornaamste verschil situeert zich in de luxe aan boord. Ook bij een personenbus beschikt u uiteraard over een comfortabele stoel en voldoende beenruimte. Personenbussen zijn er in verschillende maten, gaande van 15 tot 52 zitplaatsen. Dit soort bus wordt voornamelijk gebruikt bij korte (binnenlandse) verplaatsingen in groep.
d) Midibus
Voor een uitstap met een groep vrienden of familie is de midibus een echte topper. Allemaal samen vanaf de eerste kilometer en niemand die stress heeft bij het rijden, zorgt meteen voor een aangename groepssfeer. Midibussen zijn er in meerdere uitvoeringen. Zo heeft u de keuze tussen een luxe-uitvoering of een normale-uitvoering. Ook het aantal plaatsen varieert per merk. Vraag dit zeker na bij uw aanvraag. Een midibus is geschikt voor kleine groepen t.e.m. 20 personen.
e) Minibus
De minibus is er voor kleinere groepen, waarbij een verplaatsing interessanter is dan met verschillende auto's. De minibus is de beste oplossing voor een groep bestaande uit 9-18 personen. Voor zij die er op uit trekken om een sportief weekend te beleven, kan de minibus uitgerust zijn met een trekhaak. Ideaal voor een aanhangwagen, fietsenrek of motortrailer. Let wel op de bagageruimte per persoon, deze verschillend naargelang het model van de minibus.
f) Microbus
Ook voor de kleinste groepen is er een bus op maat voor de beste prijs. Microbussen zijn er in verschillende modellen van diverse merken. Ook oldtimers, denk maar aan de alomgekende Volkswagen bus uit de jaren '50-'60, kunnen via Buszoeker geboekt worden. De microbus biedt plaats aan maximum 9 personen (incl. bestuurder). Een microbus is het ideaale vervoersmiddel voor een vriendenuitstap, vrijgezellenfeest of luchthavenvervoer.